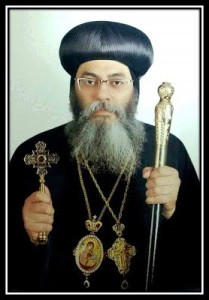 Three months following the death of archbishop Abraham, Pope Tawadros II appoints Theodore Al-Antouny as new archbishop to Jerusalem and the Near East
Egypt's Pope Tawadros II appointed on Sunday Theodore Al-Antouny as the new archbishop to Jerusalem and the Near East three months following the death of his predecessor, Archbishop Abraham.
The new archbishop to Jerusalem will also be in charge of Lebanon, Jordan, Iraq, Syria and Kuwait.
Although the archbishop is usually responsible for 12 additional countries in Asia, Tawadros II said that they will be under the direct supervision of the Coptic Orthodox Church in Egypt.
The 47-year-old Al-Antouny, a former pharmacist, was born in the Upper Egyptian village of Abu Tig in Assiut governorate.
Pope Tawadros II chose him among other monks to study at the Faculty of Theology in Greece for a period of four years, though he completed only two.
The Jerusalem diocese was previously managed by the Syriac Church before the Coptic Orthodox Church started appointing its archbishops.
Al-Antouny will be the 22nd archbishop of Jerusalem.
In November 2015, Tawadros II made an "exceptional" trip to Jerusalem through Tel Aviv to head the funeral prayer for Metropolitan Archbishop Abraham.
The visit marked the first by a Coptic pope to the Holy Land since 1967.
Whoever fills the post of the Jerusalem and Near East diocese is considered the second most important figure following the pope in the Coptic Holy Synod