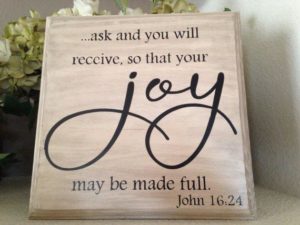 Today is the Sixth Sunday of the Holy Fifty days of this year. In today's Gospel the LORD JESUS is talking to HIS Disciples and saying) John 16:24("Until now you have not asked for anything in my name. Ask and you will receive, and your joy will be complete. "
This is because this prayer has a very strong relationship with the week coming, Feast of the Holy Spirit the Feast of the Pentecost.
Certainly when LORD said "ask, and you will receive, that your joy may be full." HE meant that we should request heavenly requests and not earthly requests.
What should we be asking from our LORD? Don't make requests like those others living in the world, LORD give me some money, give me two houses or two cars…….these are the earthly requests, but the requests of the sons of our LORD JESUS are completely different. Let us see what should we be asking for?
HE says (Mat 6:33) "But seek first his kingdom and his righteousness, and all these things will be given to you as well"
We ask for the HOLY SPIRIT, I have a question: we had the HOLY SPIRIT on the day of our Baptism and when we were anointed by the Holy oil of Mayroun and the priest anointed in 36 different places in our body and then we had the blow of the HOLY SPIRIT from the priest, so how come we now come and ask for the HOLY SPIRIT? What you had the HOLY SPIRIT on the day of Baptism is just the seed which needs to grow, a spark which needs to burn up as a flame, so you need to ask every day to be filled by the HOLY SPIRIT. There are some people who had the HOLY SPIRIT on their Baptism but they are so far away from Christianity and you cannot say that they have the Spirit of the LORD JESUS in them, this can either be through a sin or weakness in them, it is true that they have the HOLY SPIRIT in them but the spark is extinguished, not glowing. The Church teaches us every day when we pray the Third hour prayer and we say (O' Heavenly King, the Spirit of truth, the comforter, who is everywhere and fills everybody. We ask you to graciously come and dwell within us, purify us from iniquity and save our souls), but we already have the HOLY SPIRIT, how come then we ask for it? Yes; the HOLY SPIRIT is within us, but we are asking now for something different, we ask that HE fills us and to even over flow. The HOLY SPIRIT is called the Fire Spirit. It burns all impurities, evils that are in us, the weaknesses that are in us. Your vessel will never be filled unless you ask for this to happen, this fullness is conditioned by (John 16:24) "Until now you have not asked for anything in my name. Ask and you will receive, and your joy will be complete. " (Mat 7:8) "For everyone who asks receives; the one who seeks finds; and to the one who knocks, the door will be opened." This verse was said about the HOLY SPIRIT. "
If you want to be liberated from the weakness in your life, from anger, from lying, from grumbling, from cruelty in you, from distress of concern ……All things are treated by the HOLY SPIRIT and no one takes the HOLY SPIRIT except when he or she ask for it and then you will be filled by the HOLY SPIRIT. as if the seed you had in Baptism through the oil of Mayroun is now exploding in you creating a tsunami in you washing out all the weaknesses inside you. The HOLY SPIRIT gives power (Act 1:8) "But you shall receive power, after that the Holy Spiritt is come upon you: and ye shall be witnesses unto me both in Jerusalem, and in all Judaea, and in Samaria, and unto the uttermost part of the earth." Good News